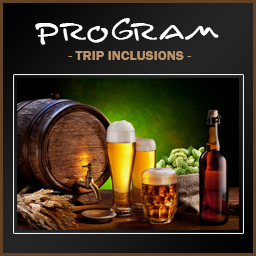 - 5 nights hotel accommodation at First Hotel Esplanaden (3 star hotel) in Copenhagen

- Orientation and city tour

- Tickets to all three sessions of the CBC Festival (sold out to general public) at Sparta Hallen Copenhagen

- Access to Mikkeller Street party and other bar events

- 1 local guide and 1 onsite event manager throughout the trip

- Daily breakfast at the hotel

- 2 beer dinners including one private dinner at Amager Bryghus in Copenhagen

- Lunch at local brewhouse

- Tranportation to/from the hotel by prepaid taxi

- Please note that flights are NOT INCLUDED
Wonderful Copenhagen
Copenhagen is the capital of Denmark and where a million Danes call home. This "friendly old girl of a town" is big enough to be a metropolis with shopping, culture and nightlife par excellence, yet still small enough to be intimate, safe and easy to navigate. Overlooking the Øresund strait with Sweden just minutes away, it is a cultural and geographic link between mainland Europe and Scandinavia. This is where old fairy tales blend with flashy new architecture and world-class design; where warm jazz mixes with cold electronica from Copenhagen's basements. You'll feel you've seen it all in a day, but could keep on discovering more for months.

A Booming Beer City
The city is cultivating an enthusiastic crop of brewers and fans that are bringing beer into a new era. At the end of the 20th century, Denmark had around a dozen breweries to its name. A decade into the 21st century, the nation boasted almost 150 breweries!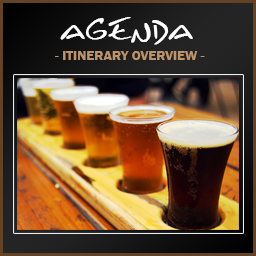 Wednesday, May 01
Depart from USA on overnight flight to Copenhagen (not included)

Thursday, May 02
Orientation and Copenhagen city tour
Dinner at renowned beer-themed restaurant

Friday, May 03
Attend CBC Festival

Saturday, May 04
Attend CBC Festival

Sunday, May 05
Attend street party at Mikkeller Bar - one of the world's premier beer bars

Monday, May 06
Private tasting and discussion with two renowned Danish brewers
Private dinner at Amager Bryghus brewery

Tuesday, May 07
Return flight to USA (not included)

PRICE: $2,299 per person


(based on double occupancy)

About the Celebration
Copenhagen Beer Celebration was arranged the first time in 2012. The goal was to gather the absolute best brewers around the world and simply celebrate them and their fantastic beers. The 2012 version was a huge success, where 2000 beer fanatics from all over the world gathered in Copenhagen to share their passion with equally minded fanatics. At first the CBC 2012 was intended to be a one time event, but due to the huge amount of positive feedback from both brewers and beer fanatics the organizers decided to do it again in 2013!

Details
Held over the 3rd and 4th of May, 2013, the Celebration will feature three sessions - one on Friday and two on Saturday. 30 of the greatest brewers in the world will bring 3 different beers for each session – many exclusive releases for each session – and a total of 270 different beers will be presented at the event.

Food
One of the main goals of Copenhagen Beer Celebration is to present beer in a gastronomic context. Last year everyone was invited for one big dinner hosted by Mielcke & Hurtigkarl – this year will be a bit different. 6 different chefs from 6 totally different restaurants have been invited to come and make their version of a dish that fits perfectly to beer. Every chef will have their own booth and will be open during the whole festival. This way you can choose yourself what you want to pare with your Bourbon BA Imperial Stout or Citra Single Hop IPA and when you want something to eat.

Master Classes
Copenhagen Beer Celebration is all about getting under the skin of the brewers and the beers. Therefore, a series of free lectures and master classes held by all the great brewers has been arranged. All brewers will discuss different subjects and all master classes will be announced shortly before and during the Celebration.