Onsite Management
"I have learned that people will forget what you said, people will forget what you did, but people will never forget how you made them feel." - Maya Angelou (American Poet )
We know how to make people feel good! So they remember the experience and they remember how important they were made to feel.
The skills and experience our team brings to an onsite event – all that happens in the background – creates that atmosphere, that feel good factor, which is the clients' takeaway. With the pre-event planning, the attention to detail, and the onsite implementation, we leave nothing to chance.
Now, there may be an unforeseen circumstance which disturbs the smooth sailing. And, in this (unlikely) instance, we have found that our ability to solve a problem is often as memorable as if nothing at all goes awry. Our clients remember that we responded positively and honestly, and offered our absolute best at all times. Their clients remember the same thing.
We often hear from our attendees – "You are everywhere" – which is just where we aim to be!
Program Manager
Main on-site contact for client, hotels and all vendors
Coordinate all client/staff/supplier meetings (including Pre and Post)
Coordinate work schedules and responsibilities of all staff members
Experienced Staff of Meeting Managers
Uniformed
Experienced and trained
Friendly and helpful
Dedicated to do what ever it takes
Communicate via walkie-talkie

Accounting Process
Establish procedures for Credit Office
Establish process for monitoring master billing accounts
Establish process for nightly room balance
Process for cash allowance distribution if applicable
Reconciliation of all accounts on-site
Food and Beverage
Confirm all menus
Review and finalize all set-up details
Oversee set ups
Check room sets (table and chair counts)
Review food and utensil placement
Establish procedures for special diets
Monitor guarantees
Establish alternate locations for inclement weather
Monitor all food and beverage functions
Meet with and manage banquet staffing
Inventory menu with banquet manager
Check back-up with banquet manager
Review timing with banquet manager
Check bar setups
Inventory liquor both pre and post event
Monitor food replenishment
Closing of food lines/bars when appropriate
Sign liquor counts
Review banquet check

Housing/Rooming Lists
Proof and up-date master rooming lists daily
Establish process for monitoring room block
Review all VIP lists and room arrangements
Follow up on all "no shows"
Update with changes
Provide daily pax count and room count verification
Assists attendees with any room problems/issues
Prepare final copy of rooming list and attendee list for Program Manager
Review hotel rooms billing

Ground Transportation
Meeting with transportation company
Review arrivals manifest
Confirm equipment use
Confirm uniformed meet and greet staff times, locations & signage
Advance/spot equipment 15 – 30 minutes prior
Assist with loading and unloading of pax
Provide departure coordinator for dispatch

Baggage Service
Review all arrivals and departures
Coordinate arrivals with Bell staff
Assist with or follow up on delayed and lost luggage

Shipping and Receiving
Establish a storage space
Coordinate shipping manifest
Establish delivery procedures
Inventory all shipments
Track missing shipments
Coordinate return shipments
Provide return shipping info to Client

Signs and Banners
Inventory signage
Proof signage for spelling/content
Coordinate any new signage requests
Determine signage locations
Assure proper signage set-up
Obtain necessary easels from hotel
Coordinate banner displays
Provide staff with signage list for their areas of responsibility
Make sure signage is returned after event

Hospitality Desk
Staffing during posted hours
Staffed before, during, after program functions
Staff available to answer questions, handle special requests, provide directions and assist participants in every way
Desk to be maintained with all pertinent program, hotel and destination information
Handle emergency messages
Provide Lost and Found services

Gifts/Premiums Distribution (if applicable)
Inventory all shipments
Review distribution times
Work with hotel bellmen or room service staff to coordinate delivery
Random check of rooms to insure proper delivery
Return shipping of undistributed items

Activities (if applicable)
Reconfirm attendee and guest activity selection at check-in
Provide activity voucher to attendee with all pertinent info
Monitor activity counts & update vendors as needed
Oversee facilitation of activities & escort group on activities when necessary
Complete golf pairings, requests for club rentals, etc.
Case Study
CASE STUDY - CLIENT INCENTIVES
Snowmobiling the Continental Divide
Objective
Rather than give out cash or gifts our client decided to reward their best customers with a travel incentive, proven to be the most effective method of customer retention. The trip was not a typical weekend getaway though. This was a once-in-a-lifetime thrilling expedition that none of the guests will ever forget. Monalto's goal was to create and operate a unique client incentive trip centered around a winter destination. Our client wanted a desirable trip with an exciting winter activity, but also a way of keeping the group together to create lasting relationships. Wyoming was chosen due to the spectacular scenery and convenient facilities, and snowmobiling was the activity of choice due to its unique nature and group bonding possibilities. Also, with Jackson Hole being a very accessible location from many airports around the country, guests did not have to travel excessively to reach the trip's starting point. This unbelievable experience helped our client create and solidify key relationships and kept their customers more than happy and ready to come back for more!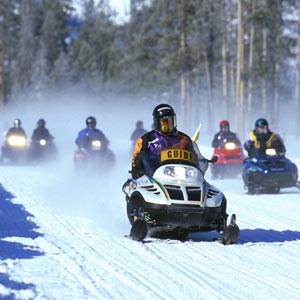 Highlights
Four nights accommodations beginning in the luxurious ski village of Jackson Hole, and continuing at two different authentic country ranches deep in the spectacular countryside of Wyoming. A thrilling three day snowmobile expedition including safety briefing and equipment, and professional guides taking the guests through the mountains and across the Continental Divide. Unbelievable scenery and wildlife. Delicious local dinners each evening and stories of the day's excitement. A group bonding experience for each guest to remember forever.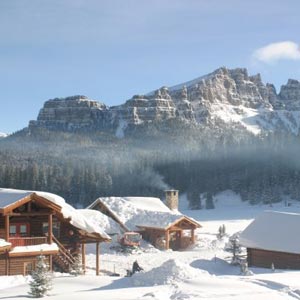 The Monalto Difference
As always, Monalto added the personal touch with first class service. We created the concept, including daily itinerary and coordinated all event details from start to finish. Accommodations, meal venues, menu selection, activities, snowmobiling vendor selection, transportation, on-site management, staffing, customer liaison, event branding and signage, all client documentation, including exclusive password protected event specific website with online registration capabilities, all with that little bit extra. As a result our client's customers were hugely impressed, and looking to come back for more! It was a highly successful program for Monalto with all objectives exceeded: a very happy group of guests, lasting relationships, incentivised customers ready to do more business, and an ecstatic client. The experience was so popular that it has now become an annual trip.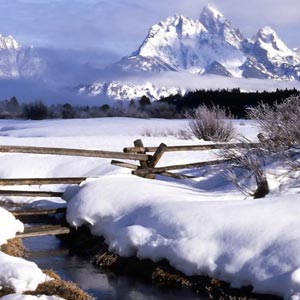 Read more Case Studies →
Would you like more information?
If you'd love more information or want us to keep you updated, why not sign up to stay informed using the form below or contact us, We'd love to help make your event that extra bit special.
Call us on: 1-877-288-6719
Call us on: 770-998-3123

Email us: info@monalto.com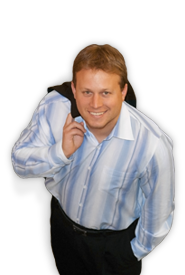 Awesome

I can wrap up my comment in one word. AWESOME. Every detail was covered from arrival to departure and everything in between. Also, Monalto was incredible making sure all moving parts were in place. I couldn't have been happier with my experience.
General Manager, Southern Wine & Spirits